Are we ready for Web 3.0 or the more used term, Web3? What will be the benefits of Web3? How can startups and budding entrepreneurs  leverage opportunities in Web3? If Web2 created billionaires out of the likes of Mark Zuckerberg of Facebook now corporately renamed Meta or Twitter's Jack Dorsey– will Web3 create mega billionaires in much more dispersed space? How does blockchain, cryptocurrency, NFT, Defi, or Metaverse fit into the Web3 evolution?
All these questions and more were the fulcrum of a recent conversation on Web 3.0 at the Startup Grind Jos inside nHub Nigeria, Jos Plateau state. The conversation was led by the Director General of Plateau State ICT Development Agency (PICTDA), Daser David, who is also the  founder of nHub, the first innovation hub in Northern Nigeria.
"Web3 is an entire new vista of internet experience leveraging machine learning, artificial intelligence, blockchain, non-fungible token (NFT) and other emerging technologies to change the game outside of what it used to be and create unfathomable opportunities. Web3 is definitely a game changer," said David to begin the conversation anchored by CEO of Qitech Technologies Limited and Founder of IT Edge News, West Africa's leading tech-news portal, Olusegun Oruame.
According to Daser, Web 3.0 is the third generation of internet services for "Web 1.0 gave us basic connection, opened us to possibilities in globally a connected environment. Web 2.0 became an enhanced version of  Web 1.0 allowing unprecedented developments and the use of web browser technologies including AJAX and JavaScript frameworks to make business and social engagements more rewarding. Web 2.0 expanded the frontiers of businesses and social realities in ways once inconceivable; creating thousands and thousands of new jobs, careers, businesses not existing a decade back."
Now, Web 3.0 is redefining the iteration of the World Wide Web (www) based on "emerging technologies notably blockchain," said Oruame.
Web3 opens new possibilities for use of applications such as Apple's Siri, which  uses speech recognition techniques and artificial intelligence to search and deliver impressive results, and it is getting better as we speak. Right now, cryptocurrency, NFTs and the metaverse are redefining our understanding of business and investments," said Daser.
We may regard Web 1.0, the first-generation internet that offered limited access to the web with no interactions, as the static web which was soon replaced by 2.0, the social web, a more collaborative way of using web tools like Javascript, HTML5, CSS3 to build interactive web platforms from Facebook, Youtube, Twitter and the likes. Web2 made the Internet a must for everyone and awakened us to a brand-new world of commerce, science, politics and the likes.
Web 3.0 is a combination of everything that has been the evolutions of the internet from Web 1.0  but now with cutting edge tools or technologies from AI, NFT, to blockchain, etc. in a much more decentralized manner so that there is a considerable shift from data control collected by giants like Facebook or Twitter through social networking in Web 2 to a decentralized web structure where individuals now have control over their own data. Web3 recognises data as the new oil and the individual's asset before it becomes the wealth of corporate actors.
Web 2 was about content creation by humans but Web3 will focus more on  content creation and decision-making more machines (AI) and less humans.
The Jos Conversation held as part of the Startup Grind Global Conference Satellite Session. The Startup Grind Jos is led by its Chapter Director, Mayokun Adeoti.
"Web 3.0 lays the framework to transition to a decentralised and democratised economy, presenting a huge opportunity to level the economic playing field. This new wave of the web is already offering fresh ways for people to work together, transforming how creators monetise their work and introducing new economic models. The idea is, as these moving parts come together, people from all walks of life must have a voice in how this future might look.
This transition will impact us all, regardless of what line of work you're in – so let's work together to bridge the knowledge gap from Web2 to Web3," said Adeoti.
In Web3, creating content or generating data is sufficiently strong enough, maintaining your own dominance in your data space decides the direction of the game.
The conversation affirms that "Web 3.0 as the future of the internet. Web 2.0 enabled users to read and write content on websites and applications. Web 3.0 goes further ahead, allowing us to read, write and interact. At its core is artificial intelligence (AI), the Internet of Things (IoT), and blockchain technology."
LasseRouhiainen.com offers five quick benefits of Web3 in Infographic.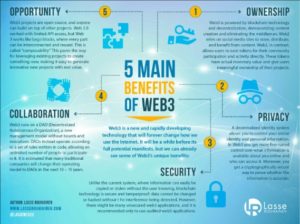 "Web3 is a new and rapidly developing technology that will forever change how we use the Internet. It will be a while before its full potential manifests, but we can already see some of Web3's unique benefits:"
OWNERSHIP:Web3 is powered by blockchain technology and decentralization, democratizing content creation and eliminating the middleman. Web2 relies on social media sites to store, distribute, and benefit from content. Web3, in contrast, allows users to earn tokens for their community participation and activity directly. These tokens have actual monetary value and give users meaningful ownership of their projects.
PRIVACY:A decentralized identity system allows you to control your online identity and personal information. In Web3 you get more fine-tuned control over what information is available about you online and who can access it. Moreover, you get a cryptographically secure way to prove whether the information is accurate.
SECURITY:Unlike the current system, where information can easily be copied or stolen without the user knowing, blockchain technology is secure and tamperproof; data cannot be changed or hacked without the interference being detected. However, there might be many unsecured web3 applications, and it is recommended only to use audited web3 applications.
OPPORTUNITY:Web3 projects are open source, and anyone can build on top of other projects. Web 2.0 worked with limited API access, but Web 3 works like Lego blocks, where every part can be interconnected and reused. This is called "composability" This paves the way for leveraging existing projects to create something new, making it easy to generate innovative new projects with real value.
COLLABORATION:Web3 runs on a DAO (Decentralized Autonomous Organization), a new management model without boards and executives. DAOs instead operate according to a set of rules written in code, allowing an unlimited number of people to participate in it. It is estimated that many traditional companies will change their operating model to DAOs in the next 10 – 15 years.