Plateau State in central Nigeria plans to use media interactive systems to enhance teaching and learning in schools as the COVID-19 pandemic forces authorities to implement clampdowns, enforce social distancing, close down businesses and educational institutions.
"We want to explore this platform for educational purposes which is very pertinent at this material time.  The governor just approved media Interactive learning system which very soon will be on board," said Secretary to the Government of Plateau State, Prof Danladi Atu this week in Jos while receiving donation of a 75'- and 65'-inch interactive screens from Lagos based ICT company, Wowbii Interactive. Other equipment alongside the interactive screens areVogel 8250 mobile base,Vogel puc2718 pole black, Vogel PFB 3407 Interface bar, Vogel PFS 3204 Display strips, Vogel PFT 5070 camera stand, Allocacoc powercube extended, Logitech k400 keyboard and mouse combo, Wowbii 5x camera, and Jabra 710 speaker,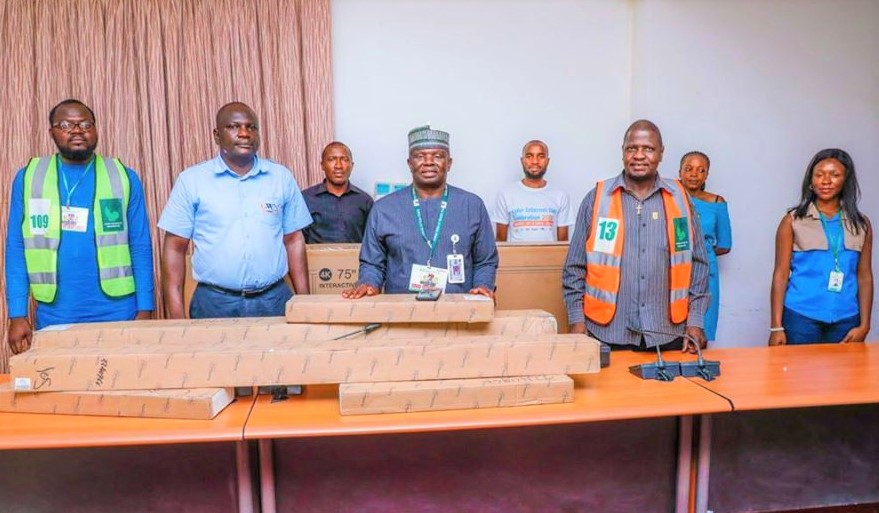 WOWBii's donation is part of its support to enable Plateau State fight the pandemic. According to Prof Atu, the donation will further enhance the capacity for teleconferencing among state officials and deepen Governor Simon Lalong's strategic drive to get learning going for pupils at home via technology in spite of COVID-19 and the attendant lockdowns.
Plateau state has reported only one case of COVID-19 with improved efforts by the government to curtail the spread of the disease through a mix of strategies including the deployment of CCTVs and other IT tools to monitor all borders and enforce the restriction on persons and goods.
Nigeria's confirmed cases are now 1,532 with 255 recoveries and 44 deaths. Worldwide, there are 3.13 million confirmed cases, 938, 000 recovered cases and over 218, 000 deaths. There is still no cure in sight according to the World Health Organisation (WHO) though vaccines and a blend of prescriptions are being tested in UK and Israel.
Interactive learning is a hands-on approach leveraging technology such as the use of interactive media including SMART Boards to help students become more engaged with learning while intrinsically developing retentive capacities. Interactive learning helps students strengthen problem solving and critical thinking skills.
With the pandemic making learning through physical interaction near impossible, media Interactive learning system has become increasingly the best option to get going with learning across virtual classrooms.
WOWBii Interactive is African's pioneer original equipment manufacturer (OEM) of interactive flat panel displays, and a host of other EdTech solutions for transforming classrooms into virtual learning spaces as well as fostering internet enabled meeting rooms and video conferencing.
While thanking the company during a brief ceremony at the Government House, Prof Atu assured that the Ministry of Education will make good use of the donation from WOWBii Interactive to strengthen the state's Virtual Education Scheme (VES). With him while receiving the donated equipment were the Director General of Research and Documentation, Prof John Wade and Director General of Plateau State Information Communication and Technology Development Agency (PICTDA), Mr. David Daser.