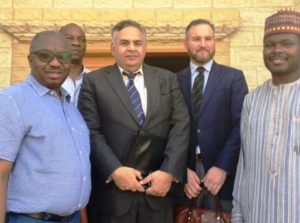 The National Information Technology Development Agency (NITDA), and the Nigeria foreign mission in the United Arab Emirates (UAE) through its Consulate in Dubai have identified an Investment Information Helpdesk (IIH) as a critical resource tool that can be used to help prospective offshore investors get adequate answers to their enquiries in real-time on how to invest in and enter Nigeria's economy, particularly the ICT sector.
While comparing notes on fast-tracking the ease of doing business in Nigeria for foreign companies through the UAE, acting Director-General of the NITDA, Dr. Vincent Olatunji, and the acting Nigeria Consul General, Dubai, UAE, Ambassador Babagana Wakil, both agreed that it was imperative to set up an IIH at the consulate in Dubai where prospective investors seeking answers on the entry requirements to doing technology related businesses in Nigeria could be quickly availed of such information directly from an equivalent IIH in NITDA, Abuja.
The officials agreed to quickly engage the support of the Ministry of Foreign Affairs, the Nigeria Investment Promotion Commission (NIPC), the National Office for Technology Acquisition and Promotion (NOTAP), the Nigerian Communications Commission (NCC), the Nigerian Export Promotion Council (NEPC), the Small and Medium Enterprises Development Agency of Nigeria (SMEDAN), and other related statutory bodies.
"Happily, most if not all of these bodies are already working as partners with the NITDA for the promotion of local content and investment opportunities for ICT in Nigeria," said Olatunji during a recent working visit to the Consulate as part of Nigeria's participation at the Gitex Technology Expo holding later this year in October 16- 20 at the Dubai World Trade Centre (DWTC).
"Nigeria's participation in past Gitex expo has elicited a lot of interests and attention from prospective investors in the Middle East and Asia. They come here to the consulate to seek further clarifications on the ICT sector in Nigeria. As expected, we direct the questions to the Foreign Ministry. But we recognised that the ICT sector is highly dynamic and feeds on fast response. I believe there is an urgent need to have a quick response approach to these enquiries to assure the prospects that they are dealing with the right channel and that the country is ever ready to guide them," said Wakil.
In response, Dr. Olatunji, said the NITDA considered an Investment Information Helpdesk (IIH) both necessary and strategic at providing fast confidential assistance servicesas they relate to investment in Nigeria to prospective investors who come knocking at the embassy in Dubai particularly if such enquiries have to do with Nigeria's IT sector. "Part of the fallouts of our involvement in last year's Gitex includes an ongoing partnership between Nigerian IT firms and their foreign counterparts. Those deals were arranged as a result of our participation in Gitex.
"This Information Helpdesk will therefore help to further extend the value of our outcome in participating in international investment related events such as this. I am happy that the foreign mission has agreed to work with us on this. Prospective investors need fast answers and if they don't get answers fast enough, they move to the next available country. We at NITDA will be engaging all sister agencies to ensure that this initiative set a new and additional tone for how foreign businesses can quickly engage us as a country," said Olatunji.
The Gitex Technology Expo is holding October 16- 20 at the Dubai World Trade Centre and is regarded as the 3rd largest of such expos in the world. More than 165, 000 trade visitors last year from over 115 countries. This year, Nigeria is promoting 'Brand Nigeria' through the NITDA. The country's participation is hinged on the Nigerian Pavilion housing government agencies and private IT companies from the country; Nigerian Startups cobs inside the Innovation Hub, which is featuring about 16 IT startups  from Nigeria and the Gitex Africa Investment Forum (AIF) being co-managed by the NITDA and the DWTC. The AIF is designed to draw attention on Nigeria's and other African countries investment potential in non-oil sectors particularly ICT.