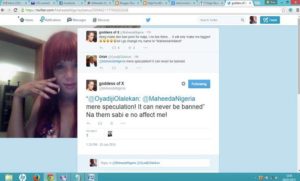 It's mix reactions from Nigerians over alleged plans by government to censure porn sites.
The National Security Adviser to the Federal Government, Col. Sambo Dasuki (rtd.), had at a three-day workshop on the use of social media organised for Islamic preachers, Imams and youths in Kaduna on Sunday said the Federal Government plans to introduce a law that will ban and block all porn websites in the country.
"Government is planning to ban and block websites that inculcate negative attitudes in our children, but we need a law to support such move," said Dasuki, who was represented by the Minister of Special Duties, Alhaji Kabiru Turaki.
Some experts said the plans will not fall through because the country has little in place to monitor web content. "We are just an open, riotous cyberspace where government has little or no control," said Tunde Adelaja, a web master in Lagos. "It will be tough to unplug porn or any X-rated sites. They come as fast as you shut them out," said Steven Chijioke, an IT solutions provider in Abuja.
For some cyber porn and nude protagonists, government appears to have its priority misplaced.  One of them is acclaimed goddess of X-rated contents, Maheeda.
Mehaeda who stated she is not a porn star, but a nudist tweeted on her twitter handle @MaheedaNigeria that  hypocrisy is the reason why the federal government would be planning to ban porn websites.
Read her tweets: "Why naija sabi suffer themselves? Watin them love them de pretend! Is it me or hypocrisy is part of naija culture? Well I love nude/sex!"
"Abeg make den ban porn for naija, I no live there…. It will only make me bigger! I go change my name to "MaheedaHolland,"
Also Benbella who commented on the news published on www.punchng.com said the proposed law is skewed towards forcing Sharia laws on Nigerians. "What happen to Freedom of reading whatever I want and watch whatever I want in my private home, I can't understand why I have to obey the law because of some Islam religion, I am not ruled by the Sharia Law , please go back and rethink about your propose law alright," .
Another Nigerian, Jeremy Obio accused the National Security Adviser of fighting freedom and liberty with Sharia laws. "Nigerian youths watching movies of their choices is not a threat to national security. Elder Dasuki should start thinking democratically. He must not fight freedom and liberty with sharia laws."
The head of a Pentecostal church in downtown Lagos believes unplugging porn would do the society some good.  This is not Sharia or religion, he said. "Pornography is satanic and government will be on the side of good to stamp out this evil," said Prophet Timothy Adelaja of the Church of the Redeemed in Christ.
Wahab Abdul, a Lagos Islamic teacher said pornography is one of the demons in the country that detracts students and robs them of their destinies. "Pornography has an instant direct consequence on the individual, devastates the whole being. It has direct adverse effects on sound mind, good judgment and purity of heart which gives prudence for healthy living. Pornography destroys the dignity of the total man," he said.