The Nigerian government is seeking for investment in its auto industry, oil and gas, digital economy and other sectors from Spain's business community.
President Muhammadu Buhari, this week, visited Spain for a three-day State Visit where he met with Spanish political and business leaders. The president led a Nigerian delegation of top government functionaries including heads of ministries and agencies as well as some private sector players.
The hallmark of the president's visit is the Political and Business Leaders Forum, jointly organised by the Spanish Chamber of Commerce, the Ministry of Trade, and the Confederation of Employers.
President Buhari delivered the keynote address at the forum assuring that Nigeria will continue to protect foreign investments and provide the right policy and other incentives for investors.
The Nigerian leader called on Spanish investors to leverage Nigeria's tax-free environment and limitless expatriate quota at its Free Trade Zones to boost Nigerian-Spanish trade and economic opportunities.
Nigeria has biggest digital economy in Africa –

Isa Pantami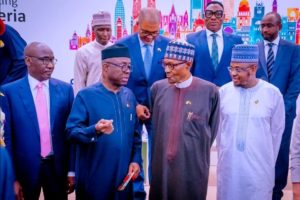 "Attending Nigeria-Spain Business & Trade Forum, Madrid, Spain. We engaged potential investors in the digital economy sector willing to invest in Nigeria. At the moment, Nigeria has the biggest digital economy in Africa," the Minister of Communications and Digital Economy, Prof Isa Ali Ibrahim Pantami noted in a post.
According to the International Finance Corporation (IFC), "Nigeria, Africa's biggest economy, could take a bigger bite of the global digital economy—worth an estimated $11.5 trillion in 2016—by strengthening its digital infrastructure, unlocking investment, boosting skills training for its youth population, and implementing reforms to create jobs and economic diversification."
The IFC noted that "Nigerian entrepreneurs are leading change and finding innovative solutions. They are launching tech-driven companies that have the potential to transform the delivery of financial services, skills training, logistics, and e-commerce, among others."
Similarly, the World Bank quoting the Nigeria Digital Economy Diagnostic says that "with improvements in digital connectivity, digital skills, digital financial services and other core areas of digital development, Nigeria can fully unleash new economic opportunities, create jobs and transform people's lives."
According to Pantami, the largely unexploited digital economy sector offers new growth opportunities for investors.
Nigeria offering high RoI in vehicles and auto parts production – Jelani Aliyu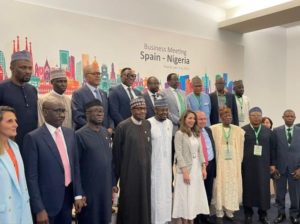 Also discussing the huge opportunities in the Nigerian automotive industry, the Director-General, National Automotive Design and Development Council (NADDC), Mr. Jelani Aliyu, asked Spanish companies explore investment opportunities in the production of vehicles and auto parts in Nigeria.
While speaking as a panelist at the forum, he said the production of vehicles and  vehicle components in Nigeria offers bounty return on investment (RoI) for investors as the sector is huge, largely untapped and only beginning to pick.
His words: "Vehicles can be produced in Nigeria both for local markets and exports, leveraging on the Africa Continental Free Trade Area (AfCFTA). Nigeria is ready for innovation and advanced automotive solutions, products and services."
Aliyu, whose agency is currently focusing aggressively on local production of electric vehicles, said the country under President Buhari has demonstrated commitment to make the auto sector attractive to investors.
"We are looking forward to further in-depth discussions with interested companies in this direction. This is on how they can come in to be part of this incredible journey that we have started in Nigeria, especially in vehicle electrification," the NADCC's boss said.