By Marozoka Oruame
The Nigerian Communications Commission (NCC) is actively focused on parental control measures on telecommunications networks. This is in line with the best global practice as enshrined in the Child On-Line Protection Initiative Guideline of the International Telecommunications Union (ITU) to protect children from harmful content.
At the heart of NCC's regulatory activities is consumers' interest – these include the rights and protection of consumers – all such rights and protections of consumers also extend to the children or wards of consumers.
The NCC is keen on parental control measures because mobile phones are practically making people to be more socially engaged online than in the real world. More young people: Teenagers and even children under seven years are increasingly having access to mobile phones/mobile devices that include full featured internet browsers and downloadable applications; thus, exposing these youngsters significantly to harmful content.
Several studies by the NCC show that while parental concerns about the use of mobile phones are growing, the level of awareness among parents as to the inherent dangers of connected devices or phones, is still relatively low.
In 2019, the Executive Vice Chairman, NCC, Prof. Umar Danbatta, announced series of awareness projects aimed at sensitising the Nigerian child on the safe use of the Internet.
"The Internet has become an indispensable element of everyday life and children are not excluded but particularly vulnerable to its disadvantages because young persons constitute the largest users of the Internet," Danbatta stated.
Last year, the Lagos Zonal Office of the NCC organised a sensitisation exercise on cybersecurity and cybercrime in order to equip parents with relevant knowledge needed to protect themselves online while further cascading such knowledge to their children and younger ones who use the Internet.
Internet safety for children is a global task
The internet is a vast place with an innumerable amount of information, any sort of information can be accessed at the speed of a click. It is quite a fascinating tool and plays an important role in business and educational advancement as well as social cohesion. On the flipside, the internet could also be a very dangerous place especially for children.
According to a 2013 quantitative research conducted by OfCom, parental concerns for children with smartphones were very weak. The results showed that concerns around 'contact' and 'content' via mobile phones were relatively low, 16% and 13% respectively for parents of 8-11s and 19% and 20% respectively for parents of 12-15s. In 2013, parents of children aged 12-15 with a smartphone are no more likely than parents whose child has a non-smartphone to be concerned about both these aspects of their child's mobile phone use. Over the past few years, not a lot has changed, with the problem only getting worse, and the numbers of children falling victim to internet threats only increasing. Parents and guardians definitely need to buckle up to contain this problem.
Most children nowadays possess or have access to mobile devices, according to a statistical report by the National Centre for Missing and Exploited Children (NCMEC), a private, nonprofit organization established in 1984 by the United States Congress. The NCMEC projects that about 93% of children aged 12-17 are online, and 75% of children within the same age group and even younger have smart phones, also 73% of teenagers have social networking profiles on sites like Facebook, with almost half uploading pictures of themselves.
That statistics is frighteningly becoming a reality in Nigerians as more teenagers and young people own or have access to mobile phones.
RELATED
Telecoms Regulator, Danbatta, Reveals Plans To Launch National Campaign For Child Protection Online
NCC Talks Safer Internet Practice With Students
NCC Ignites Campaign To Educate Parents, Children On Online Safety
NCC's 2004 report on parental control measures for mobile networks
In 2004, the Policy, Competition & Economic Analysis Department of the NCC conducted and published a research-report titled: Parental Control Measures For Mobile Telecommunications Networks.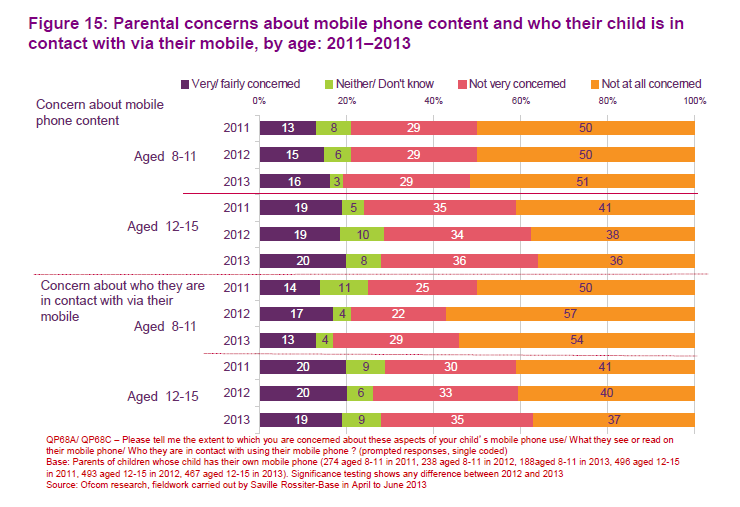 Many parents and telecom consumers will find the 2004 Parental Control Measures For Mobile Telecommunications Networks report very useful and educating. The report acknowledged that mobile telecommunication with the internet has broadened online interactions; "young children who are practically unaware of the complexities and dangers of the virtual world easily fall prey to cyber-bullying, accessing inappropriate adult content, offensive texting and videos that are easily available through mobile phones." The Commission, therefore, considers both appropriate and rational, as a responsible regulatory institution, to seek to focus on parental control measures within mobile networks.
Some key findings of the Parental Control Measures for Mobile Telecommunications Networks are as follows:
Majority of parents have limited awareness of Mobile Network Parental Controls.
Only technically savvy parents understand and apply mobile parental controls.
There is no harmonized legislation or regulation for Mobile Parental Controls.
Only a few Mobile Network Operators have keyed into the Child On-line Protection initiative guideline as provided by the International Telecommunications Union (ITU) to protect children from harmful content.
Major forms of parental controls deployed by mobile operators are usage controls, content filtering and location/monitoring control.
Some Mobile Operators have some of form parental controls and web content filters on their network by default.
NCC's 2021 report on keeping children safe online
Earlier this year (2021), the NCC published the Nigerian Child Online Protection: Keeping Children Safe Online – Advice to Parents and Caregivers – a report that offers "practical online safety tips for parents, care givers, and children" in reflection of the impact of COVID-19 pandemic on the entire society particularly young people "compelled to spend more time at home which implies more screen time (offline and online)."
The report demonstrated that COVID-19 pandemic has brought to bear a shift in the norms, putting more activities, including education of children, online. This has leapfrogged Nigerian children into the future. Online activities have acquired new meaning and become the reality of Nigerian parents and children. Screen time and screen activities are the new normal. Parents are constantly searching for online learning platforms, TV stations are providing more child-based educational content and schools are teaching via Zoom, Google Classroom and YouTube. Cyberspace, the internet and online activities are here to stay."
But the inherent danger is that at no time are young people more vulnerable to online predators and other dangers than now. The NCC, therefore provides guidelines on "what to do before things go wrong, and what to do if things go wrong."
In the 2021 report, the NCC makes the following suggestions to facilitate internet safety for children and create awareness for parents:
Mandate all Mobile Network Operators (MNOs) to implement mobile parental control measures on their network;
Ensure that MNOs creates adequate awareness on the available mobile parental control measures/apps on their networks
NCC's Consumers Parliament and Outreaches should feature Parental Control Measures in Telecoms for the next three quarters;
MNOs should educate parents and guidance on the procedure to activate the apps;
Operators should be encouraged to offer the mobile parental control app service for free or at very minimal cost in order to foster the uptake.
One of the methods recommended by the NCC is the use of Parental controls. Parental controls could be referred to as software and service (SAS) tools that are used to help parents and guardians monitor their children's use of mobile phones and other smart devices. It could also be seen as a new feature designed to let parents set controls for their children's computer use. The Parental Controls is associated with user account, which is the account your children log on to with their computer or mobile device. You can also choose to use activity reports to view your children's online activities. This tool is very useful as it helps you keep an eye on your children's activity, ensuring they don't access websites that they are not supposed to.
The Parental control method can roughly be divided into three categories content filters, usage controls and monitoring.
Content filtering: These controls can block certain websites to allow for safer mobile browsing on the Internet. Some filters can also limit videos and other multimedia.
Usage controls: Most operators allow parents to turn off features, such as downloading videos or images, texting, and accessing the Internet. These controls can also be used to limit the number of calls or texts and set time restrictions.
Location and monitoring settings: These controls allow parents to track their child's whereabouts using GPS systems that are built into the phone.
Another solution the NCC recommends to reducing the risks of internets threats to children is by running awareness campaigns for parents, especially in Nigeria where parents are not well informed on these threats. This is why the NCC organizes these sensitization campaigns from time to time to keep parents updated.
Parental areas of concern for children using mobile phones
As studies by the NCC have shown, most experts surmised that the primary areas of concern for parents whose children are using mobile phones are:
Inappropriate adult content
Unauthorized texting
Offensive Videos
Falling prey to paedophiles
In-app purchases
Unauthorized online transactions"
In addition to this, parents can also be proactive by doing things like keeping their children's computer in a common area of the home to keep track of their children's activity; making sure to always check their child's browser history; parents should always know their children's password and can also activate privacy features through their browser or internet service provider.
Another important thing to note is to make sure your children do not open any social media account until they are at least 13 years old.
Parents need to treat the issue of internet safety for their children with seriousness because it affects young children as well as the entire family. Children are very impressionable and can easily be manipulated, they could unknowingly divulge sensitive information about their family to strangers, they could also be tricked into sending sexually explicit content to predators, they could learn foul language, violence and more disturbing things.
The internet is not a safe place especially for young children but if parents read, research and adopt precautionary measures then they will be able to caution their children and teach them to be responsible on the internet.