Macclesfield, UK – Study finds a large majority of people do not expect Artificial Intelligence (AI) to harm their future career prospects and many think it will actually help, whereas leading figures in business & tech warn of large scale disruption to the job market.
A new study by Blue Beck AI asked members of the public their opinion on the impact of AI on their future employment prospects. The results of the survey show that a large majority (70%) of people are of the opinion that Artificial Intelligence will either help their future career prospects or at least not impact them negatively, compared to only 30% who believe Artificial Intelligence will harm their career prospects. These findings contrast starkly with the predictions of some leading figures in the fields of business and economics, along with those in artificial intelligence and the tech industry.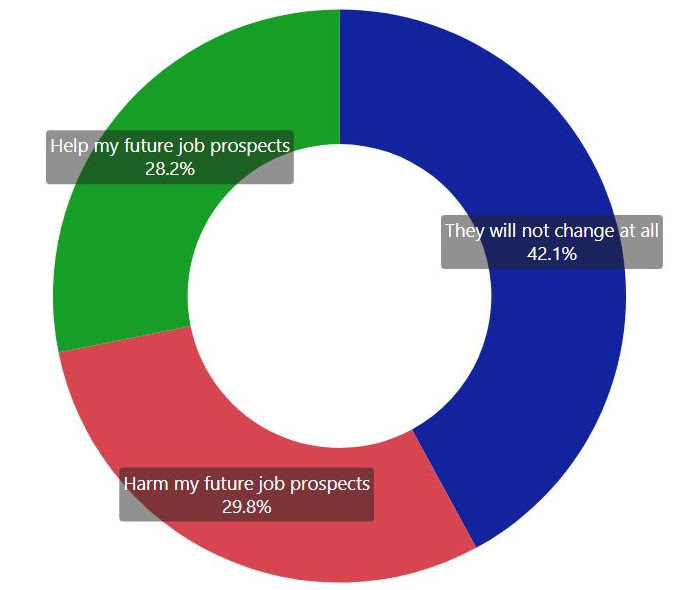 Expert opinion
Tesla and SpaceX CEO Elon Musk stated at the World Government Summit in Dubai "There will be fewer and fewer jobs that a robot cannot do better" and that he expected 12% to 15% of the world's workforce to become unemployed due to self driving cars alone.
Former McDonald's CEO Ed Rensi stated his opinion "robots are going to replace people in the service industry going forward" in a 2017 interview.
Massachusetts Institute of Technology Professor and leading AI researcher Max Tegmark writes that human employment is shifting and will continue to shift towards those jobs that "haven't yet been submerged by the rising tide of technology". He writes that humans will continue to be pushed not only to those jobs too difficult to automate, but those where low wage unskilled human work can still undercut technology on price, even comparing the state of human employment now to that of horses when the internal combustion engine was still in the early stages of adoption.
Are we being complacent?
Are the 70% of people who think that AI will either improve their job prospects or have no impact being complacent? Possibly,the World Economic Forum's Future of Jobs Report indicates that a large amount of disruption is likely, stating that we are now at a point where "in contrast to previous years, job creation is slowing while job destruction accelerates" and that "by 2025 the time spent on current tasks at work by humans and machines will be equal".
However there may be a glimmer of optimism. Each large push for automation from the original Industrial Revolution through to the deployment of industrial robots and the modern Information Age has seen disruption to the job market, while many jobs have been lost, a similar number of other (often more productive and less repetitive) jobs have been created as a result of the same changes. The same report does predict that the number of jobs "displaced by a shift in the division of labour between humans and machines" between now and 2025 will be exceeded by the creation of new roles "that are more adapted to the new division of labour".
Additional findings
The survey results also show that male respondents were more optimistic about the impact of AI on their careers than female respondents, and that those under 35 were more optimistic about the impact of AI on their careers than respondents in other age groups. The 55 and over age group had by far the largest proportion of responses indicating they expected no change in career prospects, unsurprising considering they'll expect to retire before the other age groups.
Blue Beck AI is a software consultancy based in Cheshire, focused on machine learning and AI, with a clear process, and solutions for chatbots, video game AI, RPA, offers and rewards and the insurance industry.