Elon Musk has bought Twitter Inc. in a $44 billion deal after weeks of boardroom rows and controversies in what The Economist has described as "capitalism gone rogue."
Musk, the world's richest man, now has commanding shares in one of the globe's powerful social media.The $44 billion deal is a landmark in the tech industry.
Musk confirmed the purchase in a tweet, Monday, after it was sealed.
The Tesla Founder and CEO of SpaceX tweeted: "We need more of this bold, decisive action in standing up for our values across the West.
"Free speech isn't just the bedrock of our democracy, it's what makes us who we are today.
"Exciting times ahead!"
Twitter has also confirmed the deal makes Musk one of the largest shareholders and allows the billionaire to take the company private.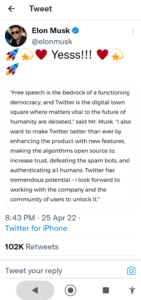 Shareholders will receive $54.20 in cash for each share of Twitter stock they own, matching Musk's original offer and marking a 38% premium over the stock price the day before Musk revealed his stake in the company.
"The Twitter Board conducted a thoughtful and comprehensive process to assess Elon's proposal with a deliberate focus on value, certainty, and financing," Twitter independent board chair Bret Taylor said in a statement, calling the deal " the best path forward for Twitter's stockholders."
Musk has said he wants to make Twitter's algorithm more transparent, including letting people see whether their tweets were promoted or demoted.
The billionaire said he plans to "make Twitter better than ever by enhancing the product with new features, making the algorithms open source to increase trust, defeating the spam bots, and authenticating all humans."
Musk's Twitter will operate "open source," or make "available for the public to view" the "algorithm that recommends whether a tweet gets promoted or demoted."