TD4PAI, based in Kuje, Abuja, is northern Nigeria's first technology hardware incubator.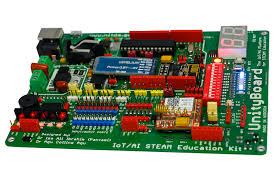 Webinar is free
The webinar is free and holds 31st October 2020 @ 2:00 PM – 4:00 PM West Africa Standard Time (GMT+1), streaming from Nigeria. Register HERE.
The Unity Board was globally unveiled at the GITEX 2018 expo to underscore a major trajectory in Nigeria's efforts at development of hardware computing, notably for IoT.
The Unity Board is an Arduino Compatible Development Board for fast and flexible IoT solutions. It is maker friendly and fully compatible with Arduino peripheral modules making it programmable via Arduino IDE and compatible with all the example codes and libraries for Arduino. It is also compatible with Graphical Programming Environment such as XOD, ArduBlock, Scratch for Arduino (S4A), Minibloq, Modkit, Visuino, Embrio, GraspIO, etc.
Unity Board puts more features On-Board for fast and flexible IoT-Device development giving unrivalled flexibility for developers while integrating a complete collection of motion, gesture, and environmental sensors, unavailable on other boards in the market.
It teaches Physical Computing combining hardware and software by focusing on teaching of computer science and computational thinking creating a perfect way to introduce schools to physical computing that opens up a world of opportunities in the fields of AI, Robotics, Internet of Things (IoT), etc.
Further Applications:
Learning embedded programming, developing and testing firmware
Smart Technology
Tracking Systems & Fleet Management
Data Acquisition Systems
Grid/Infrastructure Monitoring, Environment Monitoring, etc